Post by Artemis on Mar 6, 2016 12:16:33 GMT -5
So in case you haven't seen already, the Combat System is finished at last!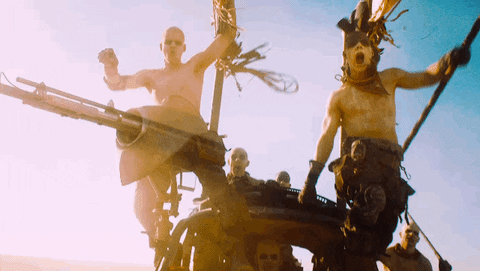 When you go to post, there is a dice icon above the box where you enter your text. When you click on it, a window will appear asking you to enter the range. Each weapon has its own range, as outlined in the
Combat System Thread
; I will also be adding a header with the ranges to the Thunderdome subforum as an easy-to-find reference.
The format looks like this:
[b]YOUR CHARACTER[/b] attacks [b]OTHER CHARACTER[/b] using [i]WEAPON[/i]
[*combat][*roll range=]Don't forget to remove the *
Adding 'combat' (in square brackets) in front of a dice roll will mean that when you post and get your number, also included will be that number's corresponding attack and the damage dealt to your opponent.
MAX
attacks
FURIOSA
using
FISTS
FURIOSA
attacks
MAX
using
PISTOL
Each character (including NPCs) has 40 HP. When you reach 40 points of damage, you are either unconscious or dead (if you don't mind killing your character).
---
Also, now that the combat system works, I've introduced 2 more toys for you to play with.
Your characters may fight amongst themselves or compete in site-organized tournaments for cash prizes that you can use to buy weapons, special character applications, perks and other combat-related items from our new site store! Cash prizes for tournaments will be awarded to 1st, 2nd and 3rd places, and the prizes will increase with the number of combatants participating.
PLEASE NOTE:
If you fight in a Thunderdome tournament, the only weapons you will be allowed to fight with are the ones purchased at the site store (to keep anyone from writing their character as having ridiculously powerful weapons for this purpose). You
can
use those weapons, once purchased, outside the Thunderdome as well.


---
You earn money by posting and starting threads, and now you have a place to use it!
The link to the site store is located in the navigation bar, where you can purchase perks, Thunderdome weapons and combat items, and special character applications. The prices will be adjusted according to the size of the site and the number of customers.
You can also gift items to other members, or request to trade items with them:
1) Go to the member/character profile you wish to trade with or give a gift to. Click the gift/trade button in the top left corner of their profile page.
2) A box will appear with your inventory and the other member's inventory. Click on the item from your inventory that you wish to give them.
If you are requesting a trade, click on the item in their inventory that you want to trade your item for.
3) The receiving member, when they log in, will see a notification in the upper right hand corner of the website. If it disappears before you can click on it (it disappears after 3 minutes or if you change pages), in the top left corner is a gray toolbar with 3 icons; the rightmost icon will take you to your gift/trade requests page.
They can choose to either accept or decline the trade or gift.
I will be fine-tuning the notification system to try to make it more straightforward.
Your inventory will appear both in your regular account profile, and in your mini-profile.
---
BEASTS OF THE WASTELAND CONTEST
To make things a little more interesting out in the Wasteland, we're going to be holding a Beasts of the Wasteland contest.
The Contest: To come up with mutated wildlife to encounter in the wasteland, to hunt or battle
or run away screaming from
. A thread will be posted with all of the rules.
The Prize: Winners will be selected by poll and awarded the following-
1st Place:
$200 and an item from the shop
2nd Place:
$100 and an item from the shop
3rd Place:
$50 and an item from the shop
Participation:
$25 per monster
Thread will be up soon!
Keep up the good work everyone!
~Arty1-100·101-200